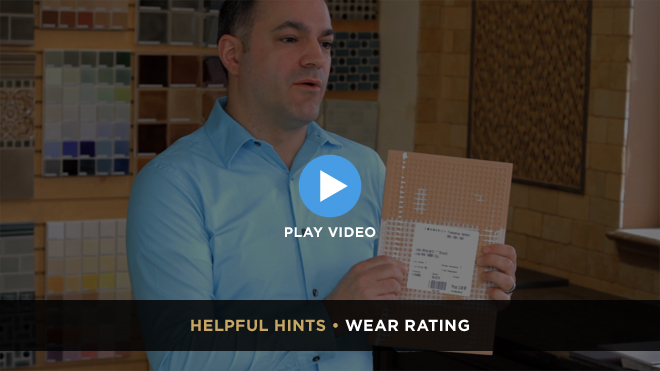 While the composition of tiles may differ, the most important attribute to a tile is its wear rating. The wear rating is a tile's ability to resist scratching from surface abrasion. The chart below shows how tiles are rated. Keep in mind all 3 types of tiles described above come with various ratings, but through-bodied porcelains usually carry the highest rating of 5 - all residential and commercial use.
Class 1
Wall Application Only.
Class 2
Light Residential Use. Class 2 tiles must not be used in residential areas that are subject to constant or heavy traffic. (i.e., kitchen)
Class 3
Residential Applications. Class 3 tiles are suitable for all residential applications.
Class 4
All Residential and Light Commercial Applications. Class 4 tiles may be used in all residential areas and light commercial applications. (i.e., restaurants, offices)
Class 5
Suitable for all Residential and Commercial Application. Class 5 tiles are suitable for all applications including those with heavy traffic and constant use. (i.e., Shopping Malls, Hospitals)
Class 8
Varies. Customer should discuss proper application with showroom design associate.